Kids' Birthday Party Ideas
When you plan a birthday party for your child there is lots of things to consider:
Where do I hold it? What entertainment do I provide? What decorations? Who makes the cake? What food? How many children get invited? Loot bags? All these questions can be answered here.
Often we think it will be too stressful to host a birthday party at home but if you have entertainment, decorations and food provided it can take all the stress away for you.
We even cater for children who have specific dairy requirements.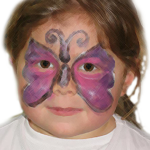 Here at the Sparkly Fairy we can provide packages that take care of everything. Just go to our 'what we do' page to check out individual packages.
We do not only cater for girls but could also come to a boys party. You could get to dress them up as peter pan, elves or pixies or a frog knight who could guard the fairies.
You could do wands for the girls and swords for the boys. Tiaras and crowns for the girls, prince crowns and gold coins for the boys.
Just let us know what your requirements are and we surely can put together a package that meets your needs.